Axing speed cameras 'costs more than 400k'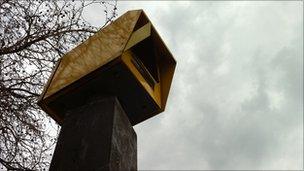 The BBC has learned that the cost of disbanding the Avon and Somerset Safety Camera Partnership could be more than £400,000.
The figure, an early estimate in the area covered by Somerset County Council, includes redundancy payments.
Fixed cameras were turned off in March after road safety budget cuts led to funding being withdrawn from the partnership.
Avon and Somerset Police now uses a team of mobile camera vans.
The findings were made following a Freedom of Information request to Avon and Somerset Police.
Figures for the Bristol, South Gloucestershire, Bath and North East Somerset and North Somerset council areas have not yet been confirmed.
A report to the partnership from Somerset County Council revealed three staff had opted for voluntary redundancy and there was one compulsory redundancy, with broad estimated costs of £81,000.
It would also cost the partnership an estimate of between £126,000 and £186,000 to buy out the lease at the Crescent building in Taunton until 2018, unless alternative occupants could be found.
It would cost an estimated £25,000 to remove fixed cameras and signs from 20 sites.
Other costs include £101,000 for dilapidation and lease costs at two other offices.
"Many of the figures are broad estimates at this stage and need to be quantified much more accurately," the report said.
Gary Hopkins, the councillor in charge of transport at Bristol City Council, said he would like to switch some of the cameras back on.
"If you've got the fixed cameras already there and they've been working, it really doesn't make much sense to switch them off completely and throw away that investment.
"We want to continue with this, we think it will be a damaging loss if all that expensive equipment that we've got out there can't be used effectively to save lives."
An Avon and Somerset Police spokesman said: "We maintain our position that should one of our local authorities wish to fund any fixed camera sites, we would process the penalty notices and facilitate either a prosecution or a referral to a driver programme.
"Our commitment to working jointly with partners on reducing the number of people killed or seriously injured on our roads remains absolute.
"It is a crucial area of activity for us and we plan to focus our activities on targeting the most affected areas, using mobile speed cameras and working with local communities to tackle speeding in areas which are causing the most concern."
Related Internet Links
The BBC is not responsible for the content of external sites.