Somerset County Council's post closures revealed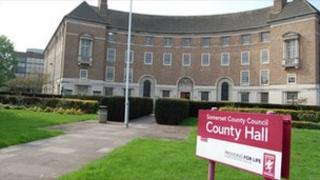 Sixty per cent of post closures at Somerset County Council as part of cutbacks have come from children's services, it has emerged.
Figures obtained by BBC Somerset show that in the past year, 565 posts have closed at a cost of £5.3m.
Of those, 285 staff took voluntary redundancy while 17 were compulsory.
The Conservative authority said a major restructure was taking place to find savings while Unison said people had felt pressurised to take redundancy.
The public sector union said staff were told they should accept redundancy by 1 April - the end of the financial year - otherwise they could be made compulsorily redundant and the payout offer would not be as beneficial in the future.
'Sea of empty desks'
The council announced in September that 1,500 posts were to close as part of plans to claw back a £75m budget deficit.
It had aimed to close 700 of the council's 6,000 posts within the first year.
When staff were first asked if they were interested in leaving, 1,841 people came forward.
Some employees have spoken of a "sea of empty desks" at the authority's offices.
One woman who had recently taken voluntary redundancy but did not want to be identified said communication had been poor and that despite more than ten years' service, she did not feel that her contribution had been valued.
'Nowhere to refer'
As part of the cutbacks, the council decided to end all funding for 18 youth clubs as it tried to save £9m from its budget.
In November, one council whistleblower said the post closures would affect the most vulnerable.
She said: "(Vulnerable people) may not come to the attention of anyone and people won't refer them because they'll know there's nowhere to refer them to and that is a far worse picture."
Nigel Behan from the Somerset branch of Unison said: "It's very disappointing to lose jobs at the same time as people out there have more needs.
"The preventative services could potentially lead to more problems for children across Somerset."
He said that by failing to fill vacant posts, it was putting more pressure on remaining staff.
In a statement the council said: "Redundancies are an ongoing process and there are various team reviews taking place.
"A major corporate restructure is underway and we will continue to look for savings through staff reviews."
In March it was revealed that the council had hired a consultant at a cost of £800 a day to help manage the restructuring.