Bishop of Bath and Well's Easter message of hope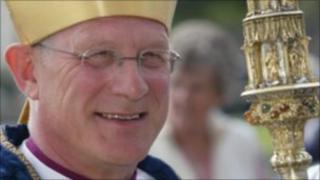 The Bishop of Bath and Wells has described the importance of living with hope in a difficult world.
His message alludes to the Orthodox Christian tradition of Easter Saturday marked as the day Jesus visited 'hell' or 'the place of the departed'.
Right Reverend Peter Price said: "Jesus reveals there is no place where God cannot be, even in the 'hell' of people's lives."
The Bishop will hold the Easter Sunday service at Wells Cathedral.
He went on to describe how "Easter day reminds us that not only does God reach into the 'hell' of human experience, but also into the places where we want to find hope, peace and new life".
"Sometimes the choices we make towards others are a bit like living between Good Friday and Easter Day in our lives.
"We don't always feel good, or loving or caring, but we act so because we hope for something better to come," he added.
Bath Abbey's Easter Sunday Service will be held by the Bishop of Taunton, Peter Maurice.