Views sought on art at Taunton's Musgrove Park Hospital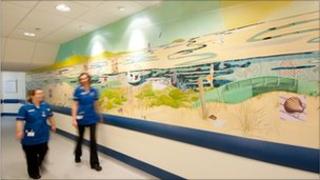 An arts scheme at a Somerset hospital is asking people how it can improve its service for patients in the future.
Art for Life is an organisation which displays paintings and sculptures in the buildings and grounds of Musgrove Park Hospital, Taunton.
An open day will be held on 3 May so the organisers can receive feedback and ideas from patients and the public.
Art for Life was one of the first projects in the country to use art to help reduce stress among patients.
Arts co-ordinator Bronwyn Gwillim said: "A lot of research has been done to show visual arts can reduce anxiety rates and depression among patients.
"We will be giving people the chance to find out more about our work and tell us what they think and where we can make improvements.
"We believe that taking part in art activities makes people feel better and so we want the day to provide lots of opportunities for people to have a go themselves."
The hospital is now home to more than 350 works of art which are chosen and commissioned through the scheme, which is celebrating its 18th anniversary next month.
Poetry and music
"Each area will have its own particular needs and patients in that area will be very specific depending on what their conditions are," Mrs Gwillim said.
"We will work closely with the staff to develop a brief so that we can be sure that artists are being sensitive to the environment and adding to and enhancing the patients' experience."
Apart from hanging paintings on the walls, the scheme also offers writing, poetry, crafts and music sessions.
In 1993 the hospital was one of the first in the country to use art to help patients.
"It came about because of the Duchess Building, which was a new building with two central courtyards which were built to let light into the centre of the building, but had nothing in them," said Mrs Gwillim.
"So the idea of putting sculpture and gardens into them came about and Art for Life was commissioned to do that."
No money from the hospital's patient care budget is used for the project.
Instead its annual running costs, which are a minimum of £4,500, are met through lottery arts grants and fundraising activities.