Somerset teenagers youngest in Britain to row Channel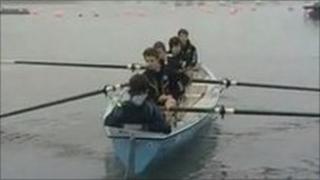 Three teenagers from Taunton have become part of the youngest British crew to row across the English Channel.
The crew of five had a combined age of 75 years, 14 years fewer than the previous record holders.
The 15 year olds Nick Evry, Christian Hosie and Alex Keeling set off from Shakespeare Beach near Dover on Tuesday morning.
It took them six hours to cross the English Channel, arriving in Calais at 1400 BST.
Myles Reid, 16, and his brother Toby, 14, from Chester also made up the five-person crew.
Nick Evry said: "You look back on what you've done and you remember you've ridden across the Channel and it feels great.
"We've been training from December last year, and we've had a lot of help from two fantastic coaches."
"Amazing feat"
Christian Hosie, who already held a record for the youngest Briton to kayak across the Channel said: "I found [the rowing] easier mentally because you've got four other people to help you across."
The team raised more than £4,500 for the charity Help for Heroes.
Mark Elliott from Help for Heroes wanted to "thank the guys for what is clearly an amazing feat".
"We're very proud of them and hope they might consider doing another challenge," he added.