Soldier quits army after his friends die on front line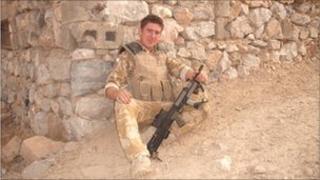 A soldier from Somerset has left the army after seeing five of his friends die during his second tour of duty in Afghanistan.
Dan Stone, a former L/Cpl with 3rd Battalion The Rifles, joined the army when was 16 years old.
He decided to leave after seven years, following his second tour in Afghanistan. He returned to the UK in early 2010.
"It was a forgone conclusion with me that that was a tour that would make me or break me," said Mr Stone.
"I think I made the right decision and I've got all the support of my family but it's not easy trying to find work," he added.
'Loud noises startle'
"I still have nightmares, you find it hard.
"Any loud noises startle you, like going over a drain [when you are driving]or when a balloon pops.
"It startles you quite a lot... you realise it's nothing and you feel a bit silly.
"I'd lost five good friends and you think 'was it worth them dying?', and you look at the bigger picture in the long run, and it is better."
He had decided to follow in the footsteps of his older brother, who joined the same regiment.
He was 18 years old when he experienced his first tour in Afghanistan, in 2006.
Speaking of his second tour, he said: "We managed to clear the whole of the 611, the main road that goes through Sangin.
"That was such a massive achievement with the freedom of movement the local nationals then had, hundreds of local shops opened up in the bazaar.
"There was a lot more life in the whole of Sangin."
Race to platoon
The turning point for Mr Stone came when his life was put in danger several times while on the front line.
"We did a patrol and it was about 2.5 miles (4km) from the forward operating base," he said.
"We'd taken up a position on a hill, and we ended up being surrounded by the Taliban.
"As a Lance Corporal it's my duty to provide ammunition re-supply for the section and for the platoon, and we were cut off."
Mr Stone said he and three others had to return to a quad bike to load themselves with half their bodyweight in ammunition, in 35 C (95F) heat.
"[We had to] run as fast we as could to our platoon so we could sustain and win the firefight, which is an infantry soldier's main aim," he added.
"You have to do a set route and the way it is marked is pretty visible to the insurgents, so an ambush was easy.
"You're constantly on your toes, constantly looking out, you don't know where to look, you look everywhere.
"You're trained to look at enemy firing points but there are so many, it's just impossible."
A total of 13 soldiers from the 3rd Battalion died between November 2009 and April 2010, one of the harshest tours of duty the army had seen.
After handing in his notice, Mr Stone went through a one-year resettlement process, during which he trained in photography.
He now hopes to work as a freelance portrait and wedding photographer.