People near Hinkley power station site 'welcome investment'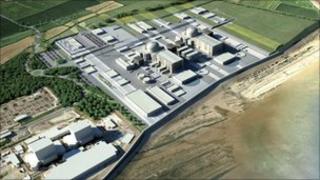 People living near a proposed power station in Somerset have welcomed EDF Energy's plans to invest in the community, according to the company.
EDF's original offer of a £1m community fund was criticised by local councils. The amount was then increased to £20m.
The company wants to build a nuclear power station at Hinkley Point and says it expects to spend a total of £100m on benefiting the community.
The funds are subject to planning approval being granted.
The firm said research conducted on its behalf showed 54% of people surveyed thought the company had the new amount of £20m for the community fund "about right".
The company said it was expecting to spend £300m in total on mitigating the impact of the project, including £100m on benefiting the community.
But when the announcement that the fund would be increased to £20m was made in February Kerry Rickards, chief executive of the Conservative-run Sedgemoor District Council, said he felt more money could be made available.
EDF said the £20m would be spent locally on projects chosen by the community and councils.