Weston pier sees 100,000 visitors over Easter break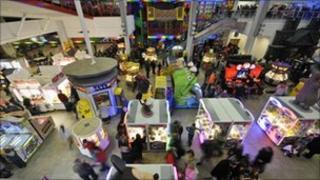 The Grand Pier at Weston-super-Mare has had more than 100,000 visitors over the four-day Easter holiday.
It is the first Easter since the new pier fully reopened to the public after a fire destroyed the pavilion in July 2008.
Co-owner Michelle Michael said: "It's well exceeded our expectations for the time of year, we've had some amazing weather."
Visitor numbers for April are expected to reach 500,000.
Doughnuts
Contrasting this Easter with 2008, Ms Michael added: "I can't compare in numbers but in terms of volume of traffic and what we have sold, it's probably 60-70% up."
During the holiday more than 24,000 doughnuts were sold at the Grand Pier and 14,000 train rides were carried out.
"With the new pier, lots more people stay longer and what we've noticed is that people come in the morning, have a look around, decide what rides they're going to go on and then come back again in the afternoon," she added.
A total of 16 theme park rides were built at the Grand Pier as part of the £39m rebuild.