Bahá'í followers in Somerset celebrate Ridván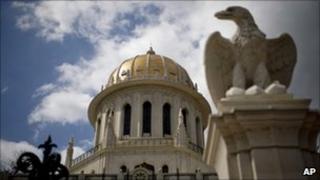 People in Somerset who follow the Bahá'í faith have celebrated Ridván, an important date in their calendar.
The faith is based on the teachings of a Persian scholar in the 1850s and has around 80 followers in the county.
Ngar Whiteford, the delegate for South Somerset, said: "The Spring festival is when Bahá'u'lláh went to the garden of Ridván in Baghdad and declared himself as a manifestation of God."
Elections for the local spiritual assemblies also take place in April.
'Distinguished'
Bahá'ís are grouped together in communities, and ones with more than nine people elect their own administrative body to organise children's classes, the 19-day feast, meetings for holy days in their calendar and charitable work.
As well as the local spiritual assemblies, the national spiritual assembly also takes place over Ridván where elected delegates from all over the country get together to discuss the teachings and events in their communities.
"There's no such thing as clergy or hierarchy in the Bahá'í faith, everybody is the same - if anybody is more spiritual they are distinguished in the community, but I'm not there yet," explained Ngar.
"What I get from the national convention is being able to see the bigger picture, what the Bahá'í community is like in the whole of Britain - as we sit round the table, I could be sitting next to someone from Scotland, or South Wales."
Like Easter in the Christian faith, Ridván also symbolises new life and renewal for Bahá'í followers.
"They tried to put down Christ by crucifying him but he rose and Christianity was regenerated, in the same way with Bahá'u'lláh, they tried to put him down by exiling him a second time from Baghdad to Constantinople (Istanbul).
"But Bahá'u'lláh made it a positive occasion by declaring himself in the garden of Ridván and establishing this festival which we still celebrate."
'Time of festivities'
The Ridván festival begins on the 21 April and ends on 2 May.
"On the first day, Bahá'ís get together at 3pm and read the tablet of Ridván together and the election occurs if you have more than nine people in any community.
"But it's a time of festivities, when you get together, have food and socialise."
The Bahá'í faith grew out of Islam in Persia (Iran) but differs in its core principles.
Bahá'u'lláh was persecuted and imprisoned by the Muslim hierarchy because he did not believe Muhammad was the final prophet.
Instead he believed in the unity of religion where different messengers of God from different faiths had the same aim of bringing spiritual unity to the human race.
Although there are only about 6,000 followers in the UK, the religion is the second most widespread in the world after Christianity.