Afghanistan goodwill parcels cause 'risk' to troops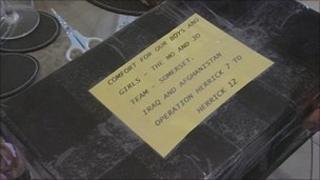 A couple from Somerset have been urged to stop sending parcels of gifts and letters to troops in Afghanistan.
The retired couple, Joanne Goody-Orris and Maurice Benton, have sent 8,000 parcels over the past five years.
They received a letter from the Reverend Scott Shackleton of the 45 Commando in Afghanistan saying the parcels are a "logistical burden".
Mrs Goody-Orris said the request for them to stop is "only going to make us more determined".
The letter, which was sent on behalf the commanding officer, said: "We have been instructed by HQ 3 Commando Brigade Royal Marine to turn down any further kind offers due to the logistical burden which is placed on the system".
Mrs Goody-Orris said: "We send them everything they miss from home.
"When we get a letter back from them in the post it's like winning the lottery," she added.
A spokesperson for the Ministry of Defence (MoD) said: "While unsolicited parcels are without doubt gratefully received, the delays they inevitably cause to the much more valued personal mail are considerably less welcome."
Mrs Goody-Orris said she and her partner, Mr Benton, cut back on parcels over Christmas because they understand families want to get through.
'Additional risk'
The MoD, which has expressed concern in the past over the couples' unsolicited mail, also said it was a risk to safety.
The spokesperson said: "Delivering goodwill parcels to forward operating bases needs additional helicopter re-supply flights and road convoys.
"[This] can place Service personnel at additional risk in what is already a difficult and dangerous operating environment.
"Every time an additional convoy is laid on, more troops are put at risk of enemy attack."
Mrs Goody-Orris said: "You show me one boy that's been killed because I've sent a parcel over and I'll stop."