Tombstoning teenager's death misadventure, says coroner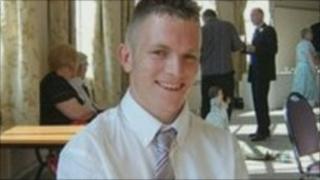 The death of a teenager who jumped into a water-filled quarry in Somerset was misadventure, a coroner has recorded.
Dean Mason, 19, had been at the disused Holcombe Quarry with friends when he died last June.
He is thought to have been "tombstoning" from a height of 50ft and then drowned.
The inquest at Wells Town Hall was told both drink and drugs were contributory factors in the death of the 19-year-old.
The inquest was told Mr Mason, from Weston-super-Mare, jumped from a height of 50ft (15m) into the water at Holcombe Quarry, near Frome. His body was recovered the next day.
Two other youngsters were asked if he had been hit by one of them but the court accepted their evidence that this had not happened.
Recording his verdict, the east Somerset coroner Tony Williams attributed Mr Mason's death to alcohol and ketamine he had taken as well as the height of the jump.