Hinkley nuclear power station consultation extended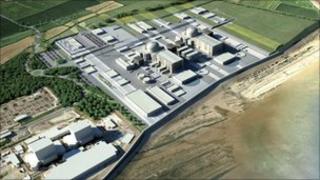 The deadline for a council consultation on plans to build a new nuclear power station has been extended again.
EDF Energy wants to build two nuclear reactors at Hinkley Point in Somerset.
West Somerset Council had requested more information from the energy company on environmental issues such as transport, air quality and noise.
The council said the original deadline of 20 May had been extended to 31 May following requests from people wanting more time to look at the new plans.
Andrew Goodchild, the Conservative-run council's planning manager, said: "It is a major application that will undoubtedly affect local people's lives and key transport corridors if it is approved.
"We have listened to people's concerns and we consider their requests for more time to be justified."
Initially the deadline for the public consultation was 12 January.
This was then extended until 31 January so that people could have more time to look at the "complex information".
The consultation was reopened earlier this month after EDF Energy provided extra information to the council.
Currently there is one nuclear power station, Hinkley Point B, on the site.
Hinkley Point A was decommissioned in 2000.
The information can be seen on the council's website and at the authority's headquarters in Williton.