Cerebral palsy surgery welcomed by Henry Ford's parents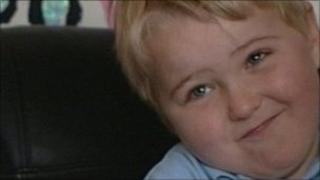 A Somerset couple who have a son with cerebral palsy have welcomed a decision by an NHS trust to fund a specialist operation in the UK for the first time.
Polly and Simon Ford, from Midsomer Norton, raised £40,000 to fly their son Henry, now aged six, to the US in 2009 for the dorsal rhizotomy procedure.
The operation can relieve leg pain and helps patients to walk unaided.
The surgery was carried out by the NHS for the first time at Frenchay Hospital near Bristol this month.
The operation was carried out by Kristian Aquilina, a consultant neurosurgeon at the hospital, who had been to America to learn how to do the operation.
Upon returning to the UK, he was able to get approval from the National Institute for Health and Clinical Excellence (Nice) to carry out the operation here.
He said: "I'm extremely delighted that we have managed to get a team together here and am keen to see how it goes and carry on in the future."
Mr Aquilina added that up to 40 families had travelled at their own expense to the US for the operation this year alone.
'Big push'
Henry's parents had been campaigning for it to be available on the NHS for several years.
Mr Ford said: "It needed a big push from parents with children who have cerebral palsy.
"It's really a change in attitude from the NHS and the way they treat cerebral palsy.
"I feel great that it's here and in this country and that we've helped to do that because at the time nobody had gone (to America) so we had to go; somebody's got to go to bring the operation back so it's great that lots of people don't have to go through that in the future.
"Without Henry and the local community this would never have happened."
Children with spastic cerebral palsy are often in pain as their muscles are very tight which can cause pain, especially with growth spurts.
Nerve division
Without the operation, children would be in a wheelchair.
Mr Ford said: "The operation offers help to children with cerebral palsy who are facing life in a wheelchair and are progressively getting worse.
"The fact they can now have this operation on the NHS will improve their lives dramatically."
Seven-year-old Beau Britton, from Cornwall, was the first child in England to have the operation, which involves the division of some of the nerves as they enter the spinal cord to free up the muscles.
His mother Tracy said Beau was doing really well and was already experiencing vast improvements in the flexibility of his feet and legs.
"He used to have very tight muscles and we had to spend a lot of time doing stretches and physio to have his feet in the right position even to do simple things such as put on shoes.
"Now they have changed dramatically - his feet are nice and straight and flat on the floor."
Mrs Britton said they were very fortunate to have the operation as she had contacted the hospital wanting to talk to a specialist about the operation in the United States and was then offered it in Bristol instead.