Wells Morrisons and Sainsbury's stores rejected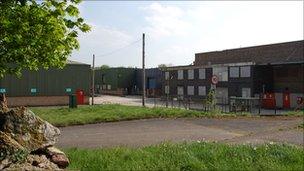 Morrisons and Sainsbury's have had fresh plans for new supermarkets in Wells rejected.
Mendip District Council also overturned a previous decision to grant Morrisons outline planning permission for a store and homes on the Parkwood Estate.
It revisited the plans as lawyers said the decision was inconsistent.
Morrisons said it was "dismayed" by the decision while Sainbury's said it was "not unexpected". Both supermarket chains are set to appeal.
A planning report for the Conservative-run council concluded that if the supermarkets were given approval, there would be a 10% drop in trade which would have amounted to a £5m-a-year loss for the city centre.
It also said the local population was not large enough to warrant the need for new supermarkets.
Both sites are on the outskirts of the city.
Bruno Moore, from Sainsbury's, which had wanted to build a store on the Ticknell's Fuel site on Gloucester Road, said: "Sainsbury's is better as it's better linked to the city; it's a bit further away; but we have the opportunity to really enhance the links between us and the city centre so people can walk there."
Mark Thompson, from Morrisons, which wants to build a supermarket on the former Clares Equipment site, said it was primarily a food retailer, and that it was "happy to condition the amount of non-food that is sold from our store because food is our core business".
Treasurer of the Wells Chamber of Commerce Dan Holland said there was a "sense of relief" amongst the majority of its members.
Wells already has a Lidl, Co-Operative and Tesco. Last year permission was given for a Waitrose store although building work has yet to begin.
Related Internet Links
The BBC is not responsible for the content of external sites.