John Reynolds to run 300 miles from Land's End to Bath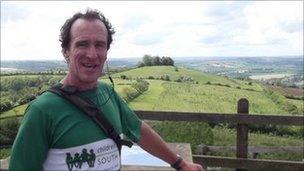 Somerset runner John Reynolds is taking on his toughest challenge yet - running 300 miles (480 km) in four days from Cornwall to Somerset.
The 49-year-old is attempting to double his previous run of 140 miles (225 km) where he ran from Saltash to Radstock.
This time, he is set to start from Land's End in Cornwall at 1700 BST on Thursday and will finish on Monday afternoon at Bath Abbey.
He is taking the challenge on in aid of Children's Hospice South West.
In 2009, he ran non-stop between the charity's two hospices - Little Bridge House, near Barnstaple, and Charlton Farm near Bristol.
And last year it took him 37 hours to run from Saltash to his home in Radstock.
This time around, he is planning three lots of six hour stops where he will use the time to change his kit, eat and have a two hour sleep.
He will travel through Porthpean, Yelverton and Glastonbury.
"I am very confident and looking forward to the main event now with eight months continuous planning and training behind me," he said.
"This run will be very difficult at times both physically and psychologically, when everything is telling you to give up and rest, especially over the four days as you run through the night-time sections knowing that most people are comfortable and asleep.
"The main things that keep me focused when the runs are difficult are remembering my conversations with the families that use the facilities at Children's Hospice South West and my meetings with the care teams."
Mr Reynolds started running seven years ago after he completed radiotherapy for a thyroid condition.
At the time, he could not walk without pain relief medication.
But after meeting children at the hospice, he decided to stop taking the medication and began to take up exercise.
Starting with walking to the end of the garden and back (which took four hours), Mr Reynolds continued to push himself and to see how far he could run.
He eats as he runs, with sandwiches and flapjacks being a favourite.
Dr Richard Winsley, a senior lecturer of physiology at Exeter University said seeing as John was training gradually, this amount of extreme exercise would have little effect on his body.
Mr Reynolds said: "I have been so lucky myself when I look back and think of the time that I was grateful to be able to walk a mile again, and of all the fantastic support from people that I have received which encourages me to help others."
Karen Edgington, Children's Hospice South West Head of Fundraising (East), said: "John never ceases to amaze us with his challenges, he is truly an inspiration.
"We wish him the best of luck for his latest epic run and hope that supporters across the region will come out to cheer him along his way."
Related Internet Links
The BBC is not responsible for the content of external sites.