Bath bus lane fines could be refunded after tribunal ruling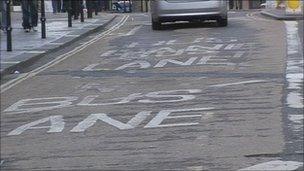 Thousands of motorists fined for going through a bus "gate" in Bath could apply to adjudicators to be refunded.
It follows an appeal by one motorist who claimed as she wanted to visit the city centre she believed she was not "through traffic" and used the route.
A Traffic Penalty Tribunal agreed and directed Bath and North East Somerset Council to cancel the £60 ticket.
Speaking afterwards, transport lawyer Peter Woodhouse said signs had to be "clear, visible and unambiguous".
Mr Woodhouse - who was not part of the tribunal - added: "There are all sorts of details and regulations saying precisely how signs should be laid out.
"But overall the driver has a right to know what he or she is supposed to be doing.
"If they aren't properly told they've got a right not to have a penalty enforced and that's what's happened here."
Adjudicator James Richardson said, after viewing CCTV evidence, he was not satisfied the evidence demonstrated the appellant "as she approached was given sufficient or adequate opportunity to understand she had to keep to the right".
He allowed the appeal on the grounds that the alleged contravention did not take place.
Liberal Democrat-controlled Bath and North East Somerset Council said although the current signage was compliant with Department for Transport regulations, it would consider ways to make this "even clearer".
"This particular appeal was based upon the interpretation of wording on the highway and the reference to 'through traffic'," a spokesman said.
"We accept the adjudicator's decision and will be considering how best to ensure that the wording is clear in order that motorists have the necessary information to avoid infringing the rules."
The bus gate operates between 1000 and 1800 during which time only buses, taxis and emergency vehicles can use it.
Motorists ignoring the order can be fined £60, although this is reduced to £30 if paid within 14 days.
The Traffic Penalty Tribunal decides appeals against parking penalties and bus lane penalties for England and Wales (not including London).
It is the final stage of appeals for motorists in its area of jurisdiction.
Related Internet Links
The BBC is not responsible for the content of external sites.