Tuckers Grave Inn to shut after 200 years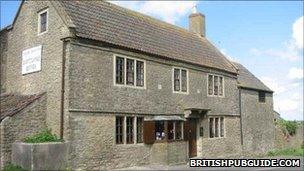 A 200-year-old pub in Somerset is to close after the landlords could not find anyone to take it on.
The Tuckers Grave Inn near Radstock was up for sale, but as the owners, Glenda and Ivan Swift, could not find a new owner, they have decided to retire.
Mrs Swift said a "traditional English pub" was a dying breed while her husband said: "It's a drinkers pub all right - always as been."
The couple, who ran it for 27 years, have decided to live there instead.
The pub is unique in that it does not have a bar or a kitchen.
Instead, barrels are lined against the wall.
This was one of the reasons why they could not find a buyer, said Mrs Swift.
"We don't make enough to what they want today to invest in us as we don't do the food so nobody's really interested," she added.
"I do 12 hours everyday so we've met some lovely customers and will be sorry to see them go."
One customer, Bill Hicks, said: "I've been drinking here for years and years.
"I always enjoy coming here for a pint of cider.
"It's a sad day when it closes, but it wouldn't be the same without these two anyway. End of an era."
Related Internet Links
The BBC is not responsible for the content of external sites.