New Swindon BHS store will 'attract more retailers'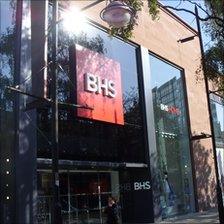 A new BHS store in Swindon will attract more retailers to the town, business and council leaders have claimed.
The retailer, which has a shop in the old Woolworths store on Regent Street, opened for business in The Parade earlier.
Simon Jackson, from In Swindon, said the new store was in the "highest end modern day spec".
Borough councillor Garry Perkins said he believed other empty shops in the town centre would also be filled.
BHS was originally located in The Parade, but moved to Regent Street when its old store was demolished.
Mr Jackson said: "I'm sure that shoppers and visitors to the town centre alike will really enjoy [the new store].
"I'm sure the fact that BHS as well as being in good company with River Island, Topshop and Topman will ultimately be a good draw to encourage a high-end retailer into that unit."
Mr Perkins, deputy leader of the council, added: "There are a number [of empty shops] but as the renaissance of Swindon centre continues and more businesses invest like BHS they will attract more and more businesses into the centre.
"It won't be too long before we have those empty shops full again I'm sure."
Related Internet Links
The BBC is not responsible for the content of external sites.