Royal Bath and West Show highlights farming dangers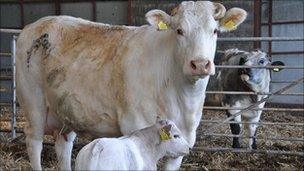 The dangers of farming are being highlighted at this year's Royal Bath and West Show.
Agriculture is one of the most dangerous industries in the UK, with about one person being killed every week from an accident while working on a farm, according to the Health and Safety Executive (HSE).
At this year's show in Shepton Mallet, Somerset - which started on Wednesday and runs until Saturday - the importance of being safety-conscious is being stressed.
Tony Makin, an inspector for the HSE for the Taunton area, said: "Agriculture is a peculiar industry. Amongst the dangers, there's machines, chemicals, and animals which are unpredictable and big.
"Farmers have to work under a wide range of pressures and with that can come temptation to take shortcuts and with long hours comes tiredness.
"They're an aging workforce and as you get older you become less agile.
"Farms are homes as well as work places so there's children about."
He said of the average 50 people that were killed each year on farms, two or three were children.
In Somerset in 2009, Harold Lee died when cows stampeded after being scared by fire engine sirens.
Another farmer, Kim Webb, was killed when a tractor rolled on her in North Cadbury in June 2009.
One farmer who has been severely injured is Martin Carter from Ilminster, who has worked as a farmer for 35 years.
He said a bull charged at him when he was trying to shut him away, pinning him against the gate.
Mr Carter was left with a pelvis broken in five places. It took three months before he could walk again.
"I can't really remember a lot about the accident. I remember him charging and me thinking 'I've got to get out the way' and obviously I didn't," he said.
His daughter Georgina said since the accident, the family now take extra safety precautions such as making sure somebody knows where they are at all times because "they do not want to go through that again".
Mr Makin said the problem of farming safety was also cultural.
"There is a culture of risk-taking," he said. "Self-employed farmers do have a feeling that 'it's not going to happen to me'," he said.
"I've heard many farmers say 'I know it's not quite right, but only I do it'. But if it's not safe for the farm worker, it isn't safe for the farmer either and they mustn't do it."
The message at the Royal Bath and West Show this year is to educate young children on the risks not only of farming, but of spending time in rural areas.
Stephen Bartlett, chairman of the dedicated safety zone at the event, said it was not only farmers that needed to be aware of countryside dangers.
He said more people were moving to rural areas but were working in towns, and they too could come across similar dangers but not know what to do.
"Accidents will happen, it's human nature I'm afraid," he said.
"But we can prevent them by knowledge. We need to try to involve children into understanding what the risks are and quite often even with a farmer or in the home, it's the wife or child which reminds the farmer."
Related Internet Links
The BBC is not responsible for the content of external sites.