Church offers free budget advice in East Brent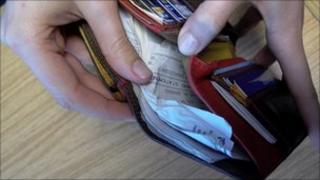 A church in East Brent has planned a series of free workshops to help residents manage their budgets.
Financial advice is not being offered but will focus on the budgeting process and saving money to help clear debt.
Jim Hanmer, who is holding the workshop said: "It will challenge them as to where they are spending their money and where to make savings."
The course run by Christians Against Poverty (CAP) is open to all faiths for people living across the county.
'Materialistic world'
"In the current economic climate people are really struggling with their budgets and this course empowers people to step back and take a look at the way they are spending their money," add Mr Hanmer.
The three sessions will be held by Jim Hanmer and Nick Bashford who were trained by the charity.
"One of the big things about the course is trying to get people to live without using credit cards and to use cash instead.
"For people who have attended the course, when they start to have cash in their pocket and don't use plastic they sometimes leave the shops without spending any money and that's where big savings can be made.
"We live in a materialistic world and people do get into that habit of pulling out the plastic - we want the latest gadget and worry about being able to pay for it later."
The first course runs at St James' Church from 7.30pm on 14 June and more details can be obtained from the CAP website.