Somerset hydro-power projects 'under extra-cost threat'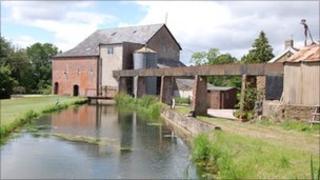 Owners of 18 hydro-electricity projects in Somerset fear their future is threatened by government red tape.
The Microgeneration Certification Scheme (MGC) means further costs could be added to the average £25,000 price tag of a small-scale project.
It is not clear how much costs will rise but campaigners fear this will put a stop to future projects.
The government admitted there are "real issues which need to be dealt with" and is reviewing the scheme.
Currently, anyone wishing to install a turbine by a river or in a converted watermill must register to the MGC scheme in order to benefit from selling back excess electricity to the grid.
But registration costs will be introduced to the scheme, and only accredited manufacturers will be able to build turbines and install them.
Watermill owners say it is already difficult to source suitably sized turbines and in the past some people have installed turbines themselves to cut down on costs, which will no longer be possible.
Craig Taylor converted his property, Clapton Mill, with a turbine and manufactures turbines near Crewkerne.
He said: "It could put people off if the figures don't stack up, it could see projects which are very marginal just not happening.
"There will be a cost and at the moment we don't know what that is going to be but that cost is going to be passed down to the customer and it will put the price of our products up.
"If that makes schemes unviable then that is counterproductive to what the scheme is meant to do."
The set-up costs can take up to eight years before these costs are recouped with the 20p-a-unit "feed-in tariff", which is the guaranteed price for electricity sold to the grid.
Climate change officer, Keith Wheaton-Green, has helped several water mill projects get off the ground.
He said that, once it is in place, a turbine is a more effective source of renewable energy when compared to photo-voltaic (PV) solar panels.
Technology 'differences'
"Because hydropower has a capacity factor of 50% because it operates for about half the year and PV has an operation factor of 11% , the amount of electricity generated is not that much less than hydro as it was for PV," he said.
Last year, 162 hydro-installations were registered under the scheme compared to 17,250 PV panels being installed in the UK.
A spokesman from the Department for Energy and Climate Change said: "The micro-hydro industry has told us about its difficulties with the Microgeneration Certification Scheme during our consultation into the Microgeneration Strategy.
"To this end, the climate change minister has had a short independent review carried out and he is clear that there are real issues which need to be dealt with in respect of micro-hydro, which differs in many ways from the mainstream technologies which are bought by households and which MCS is primarily designed to cover.
"We will be confirming our plans soon."