Record year for Large Blue butterfly at Collard Hill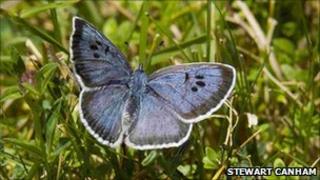 Record numbers are expected of a rare butterfly that was reintroduced to Somerset after becoming extinct in the UK in 1979.
The Large Blue was reintroduced to Collard Hill near Street in 2000 and its first successful season was 2001.
Conditions at the National Trust site were so good last year that there were up to 30,000 eggs laid, up from a record high of 20,000 the year before.
It is the only place in Britain where people can freely see the butterflies.
Rob Holden, National Trust area ranger, said: "The last few years at Collard Hill have seen a steady increase but with last year so good, hopes are high for another spectacular flight season this year.
"With so many eggs laid last year there's a strong chance of a bumper year.
"It will all come down to getting the grass at just the right length and the unpredictable element of how the underground caterpillar food - ant grubs - faired during the cold winter and exceptionally dry spring."
In the UK, the Large Blue Recovery Programme is a partnership made up of, at present, 23 organisations and individuals.
These include the National Trust, Butterfly Conservation and the Wildlife Trusts for Gloucestershire and Somerset.
There are now 25 Large Blue sites in the South West, with others being added as the butterfly spreads to new locations.
A walk around Collard Hill, with the best places to see the Large Blue butterfly, can be downloaded from the National Trust website.