Glastonbury Festival goers offered green toilet rolls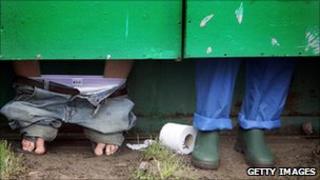 Free toilet roll will be provided for revellers at Glastonbury Festival in a bid to boost recycling rates.
More than 100,000 free recycled rolls will be handed out to drive up recycling rates from 49% last year to this year's target of 60%.
Glastonbury boss, Michael Eavis said: "There will be more than enough for everyone and more importantly it will be the right kind of loo roll."
He has teamed up with a manufacturer who will provide the free rolls.
Other plans have also been announced to make the festival more environmentally friendly.
People who cycle to the festival will have access to a special camping area and will also be offered discount vouchers at the food stalls.
A recycling barn will also be set up for festival goers to drop off cans, bottles and packaging. A team of 80 volunteers will sort and separate it out for recycling.
The festival runs from 23 to 26 June and coincides with Recycle Week 2011.