Watchet harbour safety plea to anglers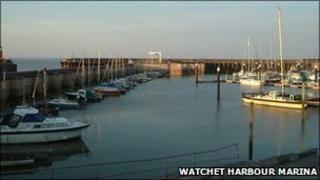 Anglers in Watchet have been asked by the local harbour committee not to use the marina's East Quay for fishing.
The committee said boat crews have been hit by fishing weights when people cast out lines, and lines have become entangled with propellers.
"We need to make sure that we look after everyone's best interests," said Conservative councillor Dave Westcott, speaking on behalf of the committee.
"We hope that people will take heed before a person is hurt."
The marina's esplanade has been redeveloped in recent years and the harbour plays host to local boat owners, as well as visiting craft.
It is home to the Watchet Coastguard Service and is used by local clubs such as the sea scouts.
"There is a safe fishing area on West Pier just opposite East Quay, so we are asking anglers, in the nicest possible way, to sling their hooks over there," added Mr Westcott.
"We have a good community spirit in the town and I hope that a bit of guidance may avert any potential future problems for anglers and boat owners alike."