Holburne Museum has 'record breaking' month for visitor numbers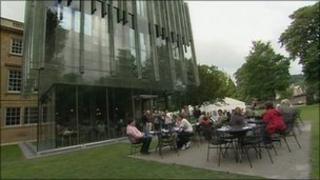 The Holburne Museum in Bath has had more visitors in the last four weeks than at any other time in its history.
More than 21,000 people have visited since it reopened on 14 May - higher than the entire year before it closed for refurbishment in 2009.
The £11.2m transformation has included restoring the Grade I listed building and a new ceramic and glass extension.
The site's director Alexander Sturgis said visitor numbers had "exceeded all expectations."
He added: "Even more importantly [the public] seem to like what they find and the response to the new building and the new displays has been overwhelmingly positive."
Price to pay
During its three years of closure, the free museum was able to create new exhibition galleries and displays, enabling it to show 60% more of its collection.
However Mr Sturgis admitted that the makeover had not been straightforward.
"Inevitably coping with so many visitors has presented challenges," he said.
"Our new team of volunteers working in the shop have coped brilliantly with their new surroundings as well as the crowds.
"Our cleaners have had to work extra hard to keep the dirt from thousands of feet at bay and our lawn has taken a bit of a beating.
"But these are all prices we are happy to pay for the museum's success."