Penlee Nursing Home workers guilty of neglect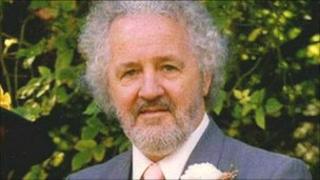 Two workers at a Weston-super-Mare nursing home have been found guilty of wilfully neglecting a patient.
Colin Lewis, 75, fell from his bed at Penlee Nursing Home, breaking his hip, but a nurse and care assistant pretended it had not happened.
Euphemia Ntintili, 54, and Alfug Andom, 38, had denied neglecting Mr Lewis.
He had been receiving 24-hour care at the home in March 2009. Speaking after the trial, his wife said he would have been in "intense pain the whole time".
It was eight days before Mr Lewis, a former photographer who was at the home following a stroke, received hospital care. He died of pneumonia within two weeks.
The bed was being made when Mr Lewis fell from it.
Stopped talking
During the trial another care worker, Elwira Koziel, told Bristol Crown Court she only failed to report the accident after nurse Ntintili said she would be sacked if she did.
Ntintili, of Severn Avenue, Weston, and Andom, of Starling Close, Weston, will be sentenced on 27 June.
Judge Michael Longman said that people who place members of their family who are vulnerable in the care of others "must do so in the knowledge that basic care will be provided".
He said that while the matter was "extremely serious", he was minded to give a community order of unpaid work because of the previous good character of the defendants.
Speaking outside court, Mr Lewis's widow Margaret said that all the pair had to do when he dropped out of bed was call an ambulance or call a doctor and he would have had immediate treatment.
"They carried on changing him, dressing him and washing him, all with a broken hip, and the doctor said he must have been in intense pain the whole time," she said.
Mrs Lewis said her husband stopped talking after the fall.
"The only time he spoke was two hours before he died. I was telling him I loved him because I knew he was going to die because they told me.
"He opened his eyes and said 'I love you' and that was it."