Fly-tipping up in Somerset following recycling charges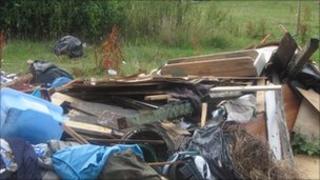 Somerset has seen a "significant" fly-tipping increase since the introduction of charges at four recycling centres.
A report for Somerset Waste Board found a "clear increase" in district councils dealing with an "unprecedented number of cases".
Four centres - Coleford, Crewkerne, Dulverton and Middlezoy - brought in entry fees at the start of April.
The Conservative-run county council is cutting £1.9m from its waste budget over three years.
The authority also introduced charges for soil, rubble and hardcore at all 18 centres in the county and each centre reduced its hours, with a complete closure for two days a week.
Lost rubbish
"What seems to have happened is that people are going less frequently," said Steve Reed, managing director of the Somerset Waste Partnership.
"When they're going they're taking more material but there is some material that at the moment we don't know where it is, where it's gone.
"We are, overall, slightly ahead of where we hoped to be in terms of savings which is really good news because we want to keep these sites open."
Rubbish has been left at entrances of six recycling centres and 20 letters have been sent to people whose addresses have been found in the fly-tipped waste.
The report found "significant fly-tipping" at the entrances of recycling sites at Saltlands, Minehead, Poole and Dulcote in April.
Rubbish found dumped at sites in Cheddar in May and Frome in early June was also classed as "significant."
Somerset Waste Partnership is on track to make further savings on top of the target of £119,000 a month.
Somerset County Council will have to reimburse district councils for clearing up any extra fly-tipping in Somerset, which could cost up to £6,000 a month.
Useless donations
Janet Govier the manager Wellington Oxfam said they had seen more overnight junk donations since the opening hours changed at her nearby dump.
"We get quite bulky items, sometimes things that we can't even fathom out what they are.
"If it's broken and no good to the people who are donating them, then it's not saleable and we have to pay to get it taken away which is defeating our objective," she said.
The Somerset Waste Board report said there had been complaints about the charges - 248 by letter or email, 120 by phone, and four formal complaints made to the local government ombudsman but not followed up by complainants.
The report is going to a committee of councillors on 22 June, with the recommendation that they do not introduce any more charges or close any sites for now.