Somerset marines honoured with train naming ceremony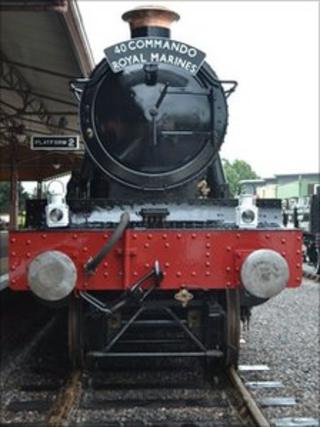 Marines in Somerset have been honoured by a local railway company which has printed their unit name on one of their trains.
West Somerset Railway has renamed a locomotive after the officers, men and women of Taunton-based 40 Commando.
The new nameplates, bearing the name 7828 Norton Manor, were unveiled on 17 June at Minehead Station.
The company has already named trains after Christopher Columbus, Dr Who and Lady Penelope.
"It means quite a lot to 40 Commando to be recognised by the train company which runs directly behind 40 Commando as it stands," said Sgt Dusty Miller.
"The lads will able to see the train going past on numerous occasions while doing their circuits and other types of training."
'Community spirit'
The railway will also be laying on a special train for the families and members of 40 Commando for a day out in Minehead on 18 June.
"We've been going for 35 years now," said West Somerset Railway's general manager, Paul Conibeare.
"We rely on a lot of community spirit and support.
"This is a chance for the railway to, quite rightly, rename the locomotive Norton Nanor in recognition of all the work that's happened at Norton Manor Camp recently."
The train, number 7828, was previously called Odney Manor and is due to return to service this year following a major overhaul.