Glastonbury Festival's new traffic route revealed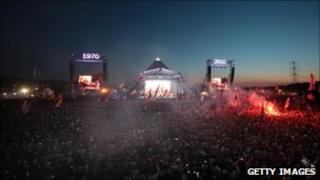 A new officially marked route has been created for motorists driving to Glastonbury Festival.
About 170,000 people will head to the site and 40,000 car passes have been handed out this year.
Festival traffic is normally directed via junction 23 of the M5 through Glastonbury town centre and to Pilton via West Pennard on the A361.
But this year when the queues start to build traffic will be split with some cars directed towards Wells on the A39.
This new route will take people along an unmarked road through Launcherley and North Wootton.
Organisers have said has often been used by people following sat-navs so making it an official route should make it easier to manage.
Signs along the new route were erected about two weeks ago.
Andrew Howard, head of Road Safety for the AA, said: "You not only have to sign traffic in, you've got to sign different types of traffic, you may have different car parks and you've got to remember they will need similar directions to get out."
Faith Brown, who has lived in North Wootton - less than two miles away from the festival site - for 25 years, said: "I don't think it will make much difference to me, except I shall know where the traffic is being routed, which will be a change.
"Quite a lot of people would come this way anyway."
Residents living in the villages surrounding Pilton receive free tickets to compensate them for the disruption caused by the festival.