Your Paintings: Bridgwater's gems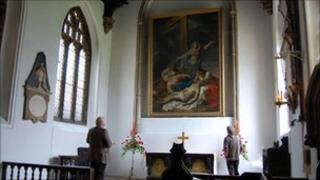 As part of an online campaign, the BBC - in partnership with The Public Catalogue Foundation and collections across the UK - is launching the groundbreaking Your Paintings website.
The project tells the story of some of the 200,000 publicly-owned oil paintings which are not on display in England's museums and art galleries.
The Your Paintings website was launched on Thursday to make all these artworks accessible by the public.
In Somerset, collections are either stored at the Somerset Heritage Centre or can be seen in public buildings, such as town halls or churches, but are often overlooked.
Gloomy or inspirational?
One such painting is the Descent from the Cross, on display at St Mary's church in Somerset which serves as an altar piece.
Despite its title, it does not show Christ being taken down from the cross but instead depicts his body at the base of an altar, being mourned by his disciple John.
In the background is the Virgin Mary who has fainted in the arms of Mary Magdalene.
The origins of the painting remain a mystery.
Local historian and curator of Blake Museum, Dr Cattermole said: "We think the painting was created sometime during the 17th Century, perhaps around 1625. It might be Italian, Spanish or French."
"Records which show it was acquired as booty from Spain by the honourable Mr Anne Poulet suggest it might have a Spanish connection."
The painting measures 13ft by 8ft (4m x 2m).
"Its very size and subject matter produces very strong feelings one way or the other so there are plenty of people in Bridgwater who don't like it; it's very gloomy they say.
"But there are others who find it a source of inspiration."
As part of the Your Paintings campaign the programme Hidden Paintings of the West, presented by Laurence Llewelyn-Bowen, will be shown on BBC One on Sunday 26 June.