Man rescued after climbing Minehead cliff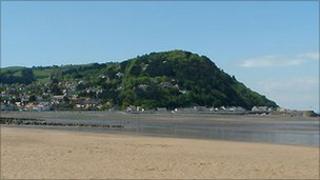 A man has been rescued from a cliff he scaled after he was cut off by the incoming tide at Minehead Bluff in Somerset.
HM Coastguard said he had been stuck in thick bracken, 100ft (30m) from the top of the 600ft (183m) cliff.
He dialled 999 at about 1800 BST on Tuesday and was winched to safety by the RAF Chivenor rescue helicopter.
The spokesman said he was wearing combat clothing and only his waving arm could be seen.
Rescuers from Minehead and Watchet and Exmoor attended, in addition to the helicopter.
The man was exhausted, but uninjured, the spokesman said.
Swansea Coastguard watch manager Bev Haigh urged people to call 999 if they become cut off by the tide and not to try and climb cliffs.