Cold War nuclear bunker in Somerset opened to public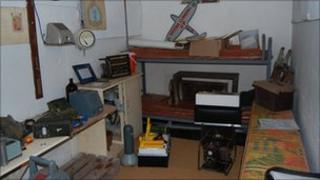 A Cold War bunker in Somerset which still contains some of its original equipment from the 1960s is being opened up to the public.
The underground bunker was built in West Harptree, 10 miles from Radstock.
The original equipment still housed there includes sirens to alert the public, radiation monitors and masks.
The bunker was intended to monitor nuclear activity and radiation in the event of an attack and send the information to scientists.
After the bunker was decommissioned it was closed off to the public but it will be opened up for two days during the Festival of Archaeology in the Mendip Hills on 26 July and 30 July.
During the 1960s, a group of local residents volunteered to act as observers who would measure the radiation data using equipment such as Geiger counters.
Nuclear burst recording
Former chief observer, Mike Parfitt, and his fellow observers then had to send material back to headquarters where "Home Office boffins could analyse everything they needed to know about the size and power of the nuclear bomb".
Mr Parfitt added: "Back in 1960 we were given the role to monitor nuclear bursts and subsequent radiation fall-out.
"In the event of a nuclear war and a fall-out we would, as observers, be notified at home and we would all meet at the post."
There were 11 volunteers in each observer crew, who would take turns on the post. In total there were three crews working shifts.
Once equipment was collected by one of the observers from Yeovil they would gather at the bunker.
Mr Parfitt said: "All the instruments would be set up, the ground zero indicator, which records the position of the nuclear burst, and the bomb power indicator would be set up and made ready."
The bunker had three beds and a fortnight's supply of tinned rations and a small Tommy cooker - used by troops in World War I - which would take two to three hours to heat up properly.
His responsibilities as an observer meant Mr Parfitt would have to be holed up in the bunker away from his wife and family to carry out his duties.
"You had to have your mind set on what you were going to do, because hopefully you were going to protect them by being in the bunker.
"If a fall-out was going towards your home, it would take time for the fall-out to reach them, it didn't just go straight up and back down again.
"The radiation filters down depending on the direction of the wind and the different speeds of wind, so there is time to warn the public to take shelter."