Land on Glastonbury's Morlands site sold to developers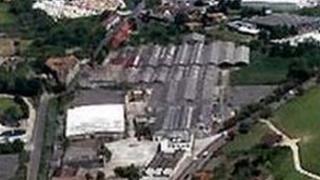 The remaining land at a former tannery site in Somerset has been sold to developers.
A local charity has taken over another part of the site which is home to the Bailey's buildings.
Both sales now complete the handover of the site which was under the control of South West Regional Development Agency.
Bristol firm Cubex bought the land and the Bailey's buildings were taken over by the local charity, the Beckery Island Regeneration Trust.
Cubex purchased the 10 acres of land with financial backing from fund management company, Palmer Capital.
Peter Walford, director at Cubex, said: "We already have a number of occupier inquiries expressing interest in taking space at the Park."
The South West Regional Development Agency (RDA) bought the whole tannery site in 2001.
Over the past ten years the RDA made the derelict factory site ready for business, by clearing derelict buildings, putting in roads and removing pollutants from the land.
'Long-derelict eyesore'
Since the 30-acre site was redeveloped on the edge of Glastonbury, new businesses have moved there such as Avalon Plastics, Screwfix and Thomson Group.
SW RDA head of regeneration, Carl Budden, said: "It has been a long and sometimes difficult journey but we were always clear our role was to turn a long-derelict eyesore into a new opportunity for growth and private investment."
In March 2012 the South West RDA will be shut down by the government.
The Beckery Island Regeneration Trust which has taken over the Bailey buildings also already owns Northover Mill. The Bailey's buildings which take up about two and a half acres, were formerly used for office and storage space.
Chairman of the trust, Ian Tucker, said: "We look forward to working together to create significant job opportunities both during restoration and in the workspace as it becomes available."