Otter uses kittens for warmth at Secret World charity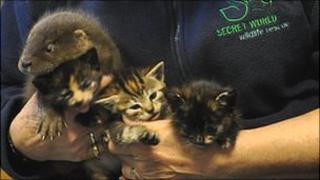 A six-week-old rescued otter cub has been placed with four kittens at a wildlife sanctuary in Somerset for warmth and companionship.
The creatures were brought to the charity, Secret World, on the same day and were roughly the same size.
Founder Pauline Kidner said: "I know people will criticise me for doing that but at this age it really doesn't matter, it's all about interacting."
In a week's time the cub will be large enough to be moved to an otter pen.
"The otter cub came through to us from Lincolnshire. Somebody contacted us because they'd seen two otter cubs by the side of the river and very concerned they were wet and crying."
The pair were eventually relayed to Somerset, but one of them died en-route. A third cub was found the following day but also died within an hour of being picked up.
"When this little guy came in the kitchen he was very lonely and was half the size he is now and that evening a dead cat was found when someone was haymaking, with four kittens alongside it," said Mrs Kinder.
Homes have been found for all four kittens, while the otter will be placed with an older otter in a pen.
He will be released back into the wild when old enough.