Museum of Somerset chosen to host BBC History Festival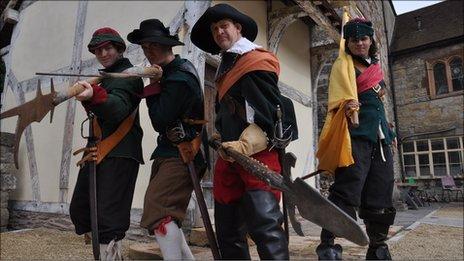 Taunton's Museum of Somerset has been chosen to host the one-day BBC History Festival on 15 October.
The event will include re-enactment displays, talks about local history, films and heritage tours taking place.
TV presenter and archaologist, Jules Hudson, said: "From medieval wool merchants to Second War War evacuees, Taunton and Somerset have an incredible tale to tell."
The museum will open on 29 September after a three-year £7m refurbishment.
Along with the museum, Taunton Library and the Brewhouse Theatre will also hold free activities.
"On 15 October I'll be taking part in some of the Brewhouse Theatre's free events, revealing Weston's role in my recent series Dig 1940 and giving people a first glimpse of my new BBC programme with John Craven, Britain at Risk," added Mr Hudson.
People attending the event will also have the chance to see Civil War enthusiasts Taunton Garrison and Zulu War experts from the 1879 Group.
Steve Minnitt, head of museums at the county council, told BBC Somerset that he expects the event to be very popular:
"The timing of the BBC History Festival is two weeks after the reopening of the Museum of Somerset and I really think that the two things together will see this place heaving".
"We want the new museum to fulfil a different role from previously. We want it be part of the community, a living place where things are always happening and the History Festival is very much part of that. It's great that it takes place so soon after our opening date."
The event is being held as part of the nationwide BBC Hands on History campaign.
Event organiser for BBC Learning, Trish Campbell, said: "This is a great opportunity for people of all ages to discover the story of Somerset, learn about Taunton's role in times of war and uncover the area's farming, brewing and manufacturing past."
The festival runs from 10:00 to 16:00 BST at the Museum of Somerset, Brewhouse Theatre and Taunton Library.
Related Internet Links
The BBC is not responsible for the content of external sites.