Somerset's Ham Hill iron age fort excavation under way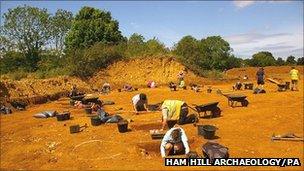 A major excavation is under way to explore the unclear history of Britain's largest Iron Age hill fort.
The purpose of the Ham Hill site in Somerset is not known but researchers are now hoping to gain a deeper insight into life 2,000 years ago.
A joint team from the universities of Cambridge and Cardiff have begun a dig at the 88-hectare site to learn more.
Work is due to continue until September 2013 by which time the team hope to have a clearer map of its interior.
Niall Sharples, from Cardiff University, said: "It's a bit of an enigma. Ham Hill is so big that no archaeologist has ever really been able to get a handle on it.
"People think of these places as defensive structures, but it is inconceivable that such a place could have been defended.
"Thousands of people would have been required; militarily, it would have been a nightmare.
"Clearly, it was a special place for people in the Iron Age, but when did it become special, why, and how long did it stay that way?"
Researchers believe the site may have been a monument and was somehow meant to create a sense of community, collective identity, or prestige.
Christopher Evans, from the Cambridge archaeological unit, said it was a rare opportunity to tackle the site's big issues on the scale they deserve.
"We don't know if the site's development was prompted by trade, defence or communal identity needs," he said.
"Equally, should we be thinking of it as a great, centralised settlement place - almost proto-urban in its layout and community size?"
One of the key aims of the current excavation will be to pin down the rough date of the hill fort's construction.
Smaller scale digs at the site have produced a number of finds, including human remains, the skeleton of a dog, pottery, iron sickles and the remains of a house.
Related Internet Links
The BBC is not responsible for the content of external sites.