Somerset holds its final Tour of Britain stage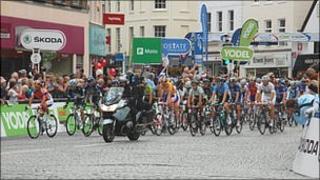 The Tour of Britain cycling race has visited Somerset for the last time after the county council's decision in May not to re-invest in the event.
A £775,000 deal was agreed under the Lib Dems who believed it promoted economic growth. The ruling Tories said the money could be better spent on essential services.
Since 2007 the race has generated £10m for the local economy through tourism.
A cyclist has injured his collarbone in the Langport stage of the race.
Ian Bibby, who rides for Motorpoint, was taken to hospital.
'Marvellous showcase'
The sixth stage of the Tour began on Friday morning in Taunton and finished in Wells during the afternoon.
The stage was won by overall leader Lars Boom.
Speaking about the decision to end investment in the race, Conservative Councillor Harvey Siggs said: "While it's a lovely thing to do and while it provides economic benefit, you have to balance what you take that money out of.
"We've had to take £75m out of the county council budgets because of reductions in the government settlement."
He said the council was "willing to work with organisers if they can find some commercial sponsorship".
Leader of the Lib Dem opposition, Sam Crabb, said: "We're obviously disappointed about the council's decision and it is a marvellous showcase for Somerset.
"We receive business rate income from the government and it is only right that some of that money should be used to keep our tourism."
Tour of Britain organiser, Hugh Roberts, said it had successfully worked with the council but was not "unduly concerned" about the decision as there was plenty of interest from other places willing to host the race.
He said: "We bring a huge amount of income into the region and it puts Somerset into the spotlight with valuable tourism income."
The Tour of Britain started in Peebles in the Scottish Borders last weekend and will finish in London this Sunday.