Frome mayor offers reward after burglary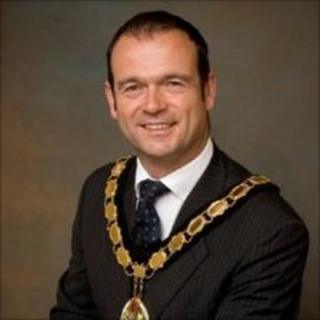 The mayor of Frome is offering a reward for the return of items that were stolen from his mother's home.
Nick White particularly wants to recover a gymnastics medal awarded to his grandfather and a gold watch his mother was given for her 21st birthday.
They were stolen when a burglar forced entry into Brenda White's home earlier this month.
Other items stolen include a 24-carat gold Krugerrand coin, an antique pearl and gold bracelet, and earrings.
The Tissot ladies watch has a small face and gold strap and casing.
'Very old'
The gold and silver gymnastics medal has the initials FSBC at the top and W WHITE at the bottom.
Mr White said it was given to his grandfather William White by a boys' club.
"My grandfather was born in 1884 and he must have been 18 or 19 when he won it," he said.
"It's a very old medal attached to a silver watch chain.
"If it's just melted down for scrap, it would break my heart."
Anyone with information is asked to call Avon and Somerset Police or Crimestoppers anonymously.