Electric car motorway charging point opens in Somerset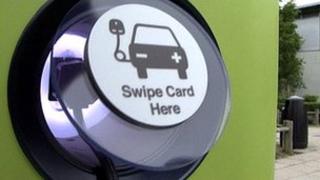 The first electric vehicle charging point on the M5 in Somerset has been installed at Sedgemoor Services.
It is part of a national motorway charging network for electric vehicles, launched by Ecotricity in July.
Since then the green energy firm has installed free power points at seven service stations, including Sedgemoor.
Ecotricity founder Dale Vince said they were "creating the infrastructure" despite there being only about 2,000 electric cars on the road.
He said: "It's often said that one of the reasons more people don't buy electric cars is because of a lack of charging facilities.
"While the reason more charging facilities aren't built is because not enough people are buying electric cars - classic chicken and egg stuff.
"We're hoping to break that impasse."
Overnight recharge
Ecotricity's national network currently has charging points at motorway services on the M25, M40, M1, M4 and M5.
The Somerset outlet, according to the company, will mean "cars can now drive between Exeter and Bristol without fear of running out of power".
The power outlets offer a 13A current supply and a higher 32A supply which can fully recharge an electric car in two to 12 hours.
A further five dedicated electric vehicle charging bays are due to be installed on the M1, M6 and M74 by the end of 2011.