Hope for A303 road dualling plan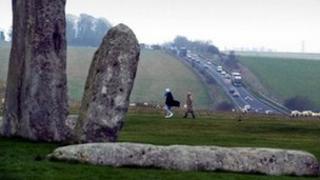 Fresh moves are being made to turn the length of the A303 into a dual carriageway.
Somerset County Council leaders hope to receive a share of a £5bn infrastructure fund announced in the Autumn Statement.
Council leader Ken Maddock said: "We will try to convince the government the road is vitally important."
A new bid could be made with other local authorities along the A303 in Somerset, Wiltshire and Devon.
Earlier, the government announced a total of 35 road and rail projects but the A303 plan was not in this list, as no bid was put forward.
Mr Maddock has said other local authorities in Wiltshire, Hampshire, Devon and Cornwall also support the plan.
Last week he met the prime minister who asked a group of council leaders whether they had any big projects in the pipeline.
Mr Maddock said: "We will work quickly with the Heart of the South West Local Enterprise Partnership and strike while the iron is hot."