Drink-drive arrests in Avon and Somerset force area rise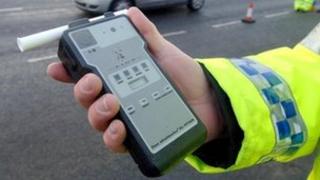 More than 150 motorists have been arrested on suspicion of drink-driving in the Avon and Somerset Police area - an increase on the same time last year.
Since the Christmas campaign started on 1 December, patrols have stopped 9,741 motorists and tested 1,458 drivers.
Last year, 132 drivers were arrested during the Christmas campaign.
This year police have also asked people to text the word "drunk" to 81819 to report anyone they suspect may be driving while under the influence.
So far 22 texts have been received.
'Loud and clear'
The messages arrive in the control room and are treated in the same way as an emergency 999 call.
Ch Insp Yannis Georgiou said: "We are determined to reduce the number of deaths and serious injuries caused by people drink and drug driving not just at this festive time, but all year round.
"Our message, loud and clear, is that drink or drug drivers will be stopped and arrested and banned from the roads.
"Drivers must realise that there is no safe drinking limit - other than not drinking at all."