Confiscation orders recover £4m from criminals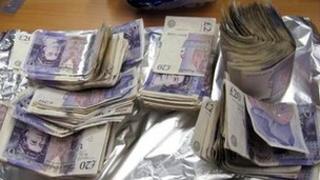 More than £4m of property and cash has been seized from criminals since March in the Avon and Somerset force area.
The goods have been recovered under the Proceeds of Crime Act 2002 which allows police to apply to a court to confiscate illegally-gained assets.
A force spokeswoman said the act aimed to make sure when criminals were released from jail they did not live a lavish lifestyle funded by their crime.
"They'll not drive around in luxury car or live in nice homes," she said.
"We look at their finances and their bank accounts for any evidence of money laundering.
"When we execute a search warrants we look for high value items and then apply to the courts to take away any assets away from them," she added.
Money recovered from confiscation orders is firstly used to help compensate victims of the offences and secondly to help fund operations against crime.
It is also used for general police investigations and community initiatives.
Since 2006 Avon and Somerset Police has obtained more than 720 successful confiscation orders, which have resulted in criminals being stripped of £12.2m