Stephen Hotson 'beat wife Julia Tottle to death in a rage'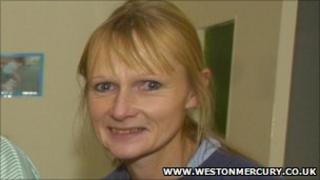 A man beat his wife to death in "a fit of rage" when she told him their marriage was over, a court has heard.
Stephen Hotson battered Julia Tottle round the head with a vacuum cleaner pipe when she asked him to leave their home.
Hotson, 45, of Crookes Lane, in Kewstoke, near Weston-super-Mare, admits the manslaughter of Ms Tottle, 51, but denies murdering her.
Police found her blood-stained body at the couple's home on 5 July.
Hotson claims he was depressed and suffering from an "abnormality of mind" when he killed Ms Tottle, who was known as Julie.
He is alleged to have murdered her between 2 and 6 July 2011.
The court heard the couple ran a holiday let business and Hotson showed no interest in getting a job.
'Straightforward murder'
Adam Vaitilingam QC, prosecuting, told the jury Ms Tottle had told friends that "she had a problem with her husband" and that he had previously attacked her.
"By July 2011 it seems that Julie had had enough of the relationship and she asked him to leave," Mr Vaitilingam said.
"He didn't appreciate that and he battered her to death leaving her to die on the living room floor.
"This is a straightforward case of murder."
The court heard that Julie Kostyla and Issy Gray, two of of Ms Tottle's colleagues at a veterinary surgery in Weston-super-Mare, had phoned her home when she failed to arrive at work on 4 July.
Hotson told them he and his wife had been ill over the weekend and that she would not be going to work.
After visiting the cottage twice and getting no answer, Ms Gray spoke to Ms Tottle's brother Mark, who ran Royal Oak Stores, next to the couple's property.
Mr Tottle said he would go round to see his sister.
'Lost control'
Upon getting no answer, he forced a window open and found her body in the lounge and Hotson slumped over the dining room table, the court heard.
Mr Tottle could smell gas and turned off the cooker and dialled 999, the jury was told.
The court heard Hotson then lit a match and tried igniting a nearby oil can.
Mr Tottle took the matches away and Hotson ran upstairs, followed by Mr Tottle who took more matches from him.
Hotson then jumped from a first floor window and landed on his head, knocking himself unconscious.
Hotson was arrested and told police that he and his wife had an argument on the evening of 3 July.
In a prepared statement, he said: "Julie said she wanted to end the relationship and there was no point continuing.
"When she told me to leave it just tipped me over the edge.
"I was suffering from depression. I just picked up a vacuum cleaner pipe and hit her on the head several times.
"I just lost control after she told me to leave."
The trial continues.