Stephen Hotson trial: Julie Tottle had more than 60 injuries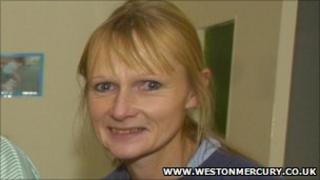 A woman who was beaten to death by her husband suffered over 60 injuries to her head and body, a court has heard.
Stephen Hotson is accused of murdering Julia Tottle at their home in Kewstoke, near Weston-super-Mare, between 2 and 6 July 2011.
Hotson, 45, of Crookes Lane, in Kewstoke, admits manslaughter but denies murder.
Bristol Crown Court heard Ms Tottle had been distressed in the months before her death.
'Just lost control'
She had confided to a friend that her husband suffered "black moods" and had attacked her in the past, the jury was told.
On Tuesday, the court heard Hotson had beaten his wife to death in "a fit of rage" when she told him their marriage was over.
Hotson claims he was depressed and suffering from an "abnormality of mind" when he killed Ms Tottle, who was known as Julie.
In a prepared statement, he said: "Julie said she wanted to end the relationship and there was no point continuing.
"When she told me to leave it just tipped me over the edge.
"I was suffering from depression. I just picked up a vacuum cleaner pipe and hit her on the head several times.
"I just lost control after she told me to leave."
The case continues.