Pride of Somerset Youth Awards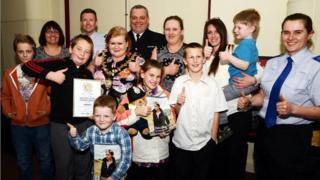 BBC Somerset needs your help to recognise the county's fantastic young people.
You could get 2015 off to a brilliant start for someone by nominating them for a Pride of Somerset Youth Award.
The awards evening will be held at Somerset College, Taunton, and will be hosted by BBC Somerset's Emma Britton.
It is very easy to nominate someone. There are no categories. You can nominate anyone from Somerset who is under the age of 20 and who has made you proud for any reason.
To inspire you, previous winners have included young people who:
Care for friends or family members
Have carried out an act of bravery
Help in their local community
Have overcome their own difficulties
Live with an illness
Achieve great things in sport, dance and drama or at school
To nominate, just send BBC Somerset the following information:
Your name and contact details.
The young person's name and age
Contact details for the young person (or their parents or school or group if that is more appropriate).
Around 200 words on why the young person has made you proud.
Send your nominations by email to somerset@bbc.co.uk or by post to Pride of Somerset Youth Awards, BBC Somerset, Park Street, Taunton, TA1 4DA.
All nominations must be received by 6pm on 5 February.