Bridgwater collapsed river wall: Legal action planned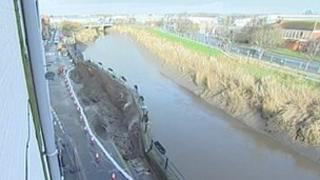 An action group has been formed to discover the organisation responsible for a partially collapsed river wall in Somerset.
The group wants to claim compensation for loss of earnings and disruption caused by the damaged wall.
A section of the wall at West Quay, in Bridgwater, crumbled after heavy rain in November and 19 properties were evacuated.
No council, water company or agency has accepted responsibility for it.
Although repair work has got under way, business owners claim they have lost thousands of pounds in trade.
'Pillar to post'
Owen Jones has been trying to renovate the Watergate Hotel, but said building work had been delayed by months.
"When this happened we just couldn't get back in to do any repairs, we've had some leaks inside where it's damaged some of the decoration where the water has been in through the roof.
"We've been sat there with the scaffolding for two months which we've had to pay extra for, it's delayed us quite significantly."
The 20-strong group of people affected by the incident are being helped by Brian Smedley, the district councillor for the ward.
"There are several agencies involved, all of whom have been passing the responsibility from pillar to post," said Mr Smedley.
"They've promised in the past that they'll work together to identify that liability or proportionally and they clearly haven't.
"We want proper forensic investigation into the cause of the incident and therefore identify the liable partners."