Hinkley C planning application register attracts 700 people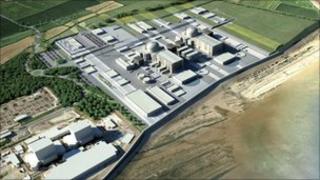 A register enabling people to have their say over the planned Hinkley C power station has attracted 700 people since it was launched in November.
The Infrastructure Planning Commission (IPC), which deals with large-scale projects, is setting up the register.
If people do not sign up, they will be unable to submit their views while the application is scrutinised by the IPC.
The application has been put forward by EDF Energy but the final decision for consent will be made by the government.
Mark Wilson, from the IPC, said: "This is the first step they'll take to log themselves into the process, so they'll be able to take part in the examination.
'Slow start'
"They'll be able to submit further written representations, they can respond to questions posed by examining authorities and can also attend hearings that might take place."
The deadline is on Monday, 23 January.
"It got off to a slow start but it is building up momentum - we've got in the region of 700 people - but we are expecting a big surge over the weekend.
"It's at the lower end of what I was expecting, but we've not had a nuclear project for quite a few years and it's difficult to gauge people's opinions," added Mr Wilson.