Burnham-on-Sea residents home following arrest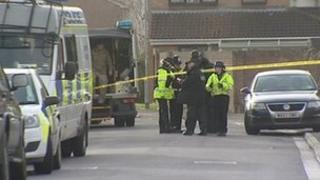 Residents have returned home in Burnham-on-Sea, Somerset, after a man was arrested under the Explosives Act.
About 30 people were evacuated from Beatty Close and a 100m (328 ft) cordon was set up following the raid on the property at 0745 GMT on Friday.
A 36-year-old man was arrested as a result of information received and remains in custody, police said.
A police spokesman said the property "has now been declared safe".
He added: "Some items have been removed for evidential purposes and some for safe disposal but the cordon has been lifted and residents are now able to return to their homes.
"As is normal practice Explosive Ordnance Disposal (EOD) officers were called and on their advice a 100-metre cordon was set up around the end terrace house.
"As a precaution we evacuated homes in the cordon and some 17 people were moved to a nearby rest centre."
An Army spokesman confirmed a bomb disposal team from Ashchurch in Gloucestershire had been called to the scene to support the police.
Beatty Way is a residential street off the B3140, the main route into the town from junction 22 of the M5.