Bath tourism bosses plan to increase visitor numbers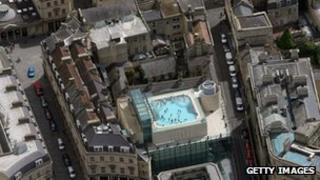 City bosses in Bath have pledged to increase the amount of money tourists bring to the city by £50m a year.
Bath Tourism Plus (BTP), which sells the city to visitors, wants to see tourists spend £400m-per-year, by 2014.
The organisation said it will increase its internet presence, offer more-targeted marketing and encourage more business visitors to use the city.
A new marketing strategy has been unveiled to 200 local businesses as the first part of the plan.
Tourism is currently worth £357m each year in the city.
"It's actually riding the storm and doing better than other places in the country but I think we can do better," said Nick Brooks-Sykes, chief executive of BTP.
"I think we can attract more high-spending visitors into the city and put our message out to a wider audience."
BTP aims to increase tourism business by 9%, grow the value of day visitors by 12%, and increase the number of visitor nights spent in Bath by 10%.
Increasing the number of foreign visitors to the city is also high on the agenda, with a 12% rise in tourists from the US, Europe and China the organisation's aim.
"China in particular is a huge growth market," said Mr Brooks-Sykes.
"We've already seen over the Christmas and New Year period an inflow of Chinese visitors to Bath.
"I want to capitalise on that and see if we can get more of those visitors into the city."
BTP aims to work with both public and private sectors to deliver the new stratergy, including working with VisitEngland.