North Somerset vicar invites 'tweets' while preaching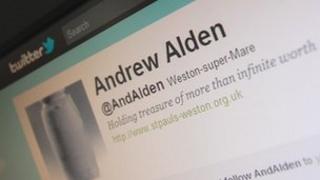 A vicar from North Somerset is inviting members of his church congregation to "tweet" him whilst he preaches.
St Paul's Church in Weston-super-Mare is using a large television screen to display comments made on Twitter while services are under way.
Reverend Andrew Alden said he wanted to engage with young adults and young people within the church.
He is making his sermons more interactive by dealing with questions and points raised while he talks.
'Message'
"The Hebrews had the written word, the Romans built roads, the reformers had the printing press," he said.
"I feel social media is God's gift to the church today to get the message out to as wide an audience as possible.
"My wife would describe herself as a Twitter widow, and she certainly feels I look at it too much, but it is a way of keeping up with what the young world is doing."